After a gastrointestinal surgery, the doctor advised Preeti (name changed) to avoid walking a lot. She was compelled to quit school, the place she liked going to the most.
Preeti is a sixteen-year-old girl living in a remote village of Madhya Pradesh. She has always been a bright student and the only person in her family who can read documents and newspapers. At the time of her surgery, she was studying in 8th class, in a government high school, which was quite far from her house. She had to drop out.
Preeti tried registering for private board examination but could not afford to pay the fees. Finally, she found a ray of hope in a grassroots organization whom she approached for help. The organization helped her get admission into a government residential school.
Social initiatives can help millions of deprived people like Preeti. While they may not be a panacea for all social problems, they can still help address many social and environmental challenges that a country/society faces.
A social initiative can be defined as:
Any purposive action aimed at addressing social problems; promoting social and environmental justice; improving the access to opportunities for deprived or marginalized persons, groups, or communities; enhancing social welfare; and contributing to sustainable development at large.
Social initiatives can be of different types. As such, these could either be an organization with a social mission or an(y) organization's socially relevant program(s) or project(s).
In a nutshell, social initiatives comprise of–
Social enterprises (which have the objective of maximizing social impact as well as profit for the external shareholders),
Social businesses (which are non-dividend, for-profit-companies with the sole objective of maximizing social impact),
Non-governmental organizations including not-for-profit organizations (where profit maximization is not a priority and they make social impact with the help of grants and donations received),
Corporate social responsibility-entities (comprising of the corporate sector who spend a small per cent of their profits to create a positive impact in the society,
Advocacy entities (which challenge concurrent public policies and law and advocate for the strengthening of society),
Government projects (meant for the welfare or development of all or certain communities),
Multilateral donor agencies (which deploy resources for addressing social and environmental issues across the globe),
Impact investors (who make investments in social sector organizations with the intention of generating a measurable, beneficial social or environmental impact alongside a financial return),
Incubators and Accelerators (who nurture young firms or social projects during their initial months or years by providing them with financial and capacity building resources to make successful enterprises out of them).
Think tanks (which do an in-depth research on key social problems and provide government and non-government entities much needed data-borne information)
Other initiatives like corporates, self-help/community groups, community-based organizations, welfare workers on government projects, social innovations and awards, network associations, media, online platforms and forums.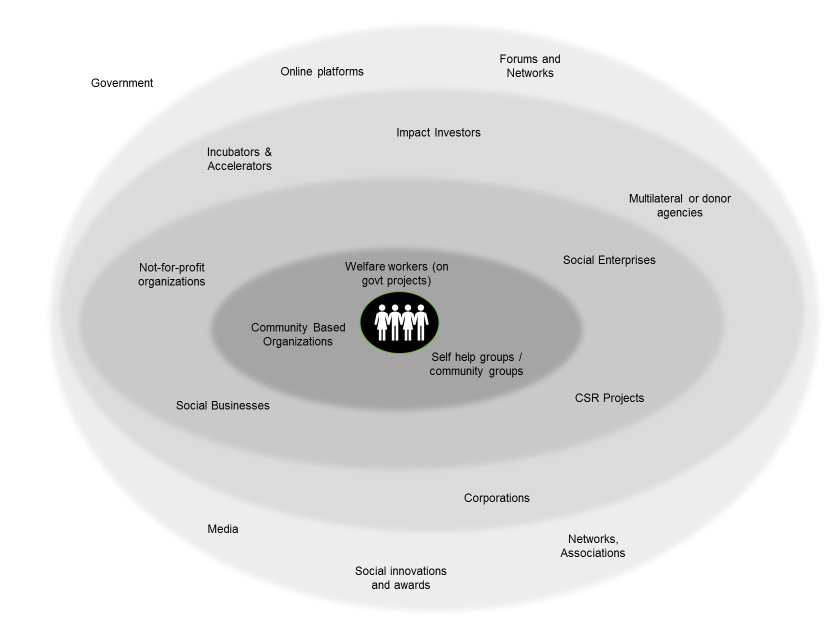 Types of social initiatives according to their level of engagement with people
The fact is that much about these various social initiatives are still in the realm of the unknown. For instance, the following aspects have not been researched well enough:
Information about the functioning and processes of these various types of social initiatives and, more importantly,
How do they establish a connection with their cause?
How do they go about achieving their intended outcomes/impact?
How do they decide on the resources to be generated or to track how these resources are being utilized?
The extent to which they succeed in achieving their intended or stated outcomes?
Do they mobilize and involve the people whose lives they seek to change?
How do they deal with the challenges faced by them while living up to their stated objectives?
Perhaps, there is also a need for a common framework to understand and/or assess the social performance, strengths, and successes of social initiatives.
While some of the entities belonging to different categories of social initiatives may have their own frameworks or metrics, it will be worthwhile to consider if a more overarching framework can help them utilize their resources much better and consequently make greater social contributions.
By Shweta Shekhar, Associate at Ankuram Social Ventures